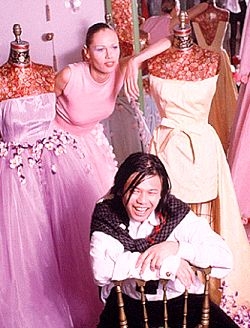 By SARA TEMPLETON
As one of the most celebrated fashion designers doing the rounds today, Zang Toi has quite a reputation. But it wasn't all caviar and canapes for the designer, who, like many, lived life as a poor student in New York.
Chinese-Malaysian Toi, from the region of Kuala Krai, Malaysia, left his home-land for New York, after spending a year in Toronto. In the Big Apple he studied at the Parsons School of Design for several years, honing his colour-matching skills.
After finishing his study and graduating in 1985, Toi managed to find work and began apprenticing with Mary Jane Marcasiano and Ronaldus Shamask. These were two figures from whom he learnt much and it was in 1989 that Zang Toi opened his own boutique, with a fresh collection of vivid sarongs, strong suits and regal dresses.
It wasn't long before high flying females began to catch on to his work, craving that 'princess' look that so many of his ornate dresses exuded. His clients to date include the likes of Madonna, Whitney Houston, Sharon Stone, Ivana Trump, Hazelle Goodman, Jennifer Tilly, Meg Ryan, Kelly Preston and Kirstie Alley.
In 1991 Toi shocked his peers by taking out the Mouton-Cadet Young Designers Award in a very competitive line-up. In March of 1997, Zang received his Knighthood, presented by the Sultan of Malaysia. A revered man in every sense, Toi now owns and runs an international business worth millions of dollars and every time the Oscars (Academy Awards) come, he is often asked to create something 'eye-catching' for a superstar movie actor or TV personality.
The thing that makes Zang Toi's creations individual, unique even, is his use of colour. He has always been known to have a keen eye and critics have acknowledged this with the many fashion awards he has recieved over the years.
He likes to include special differences in his deisgns, which can range from tiny gold buttons, to hugely expensive and luscious trimmings using rare materials. Showing off a $30,000, floral print, mink-trimmed evening coat, Toi states: "I made a skirt that a Saudi princess bought for around $20,000 to sit for her portrait." It's jobs like this that prove Toi is very popular with the ladies. Particularly the uber-rich ones!
Speaking of his aims and goals when creating new designs, he said: "I love the idea of a woman wearing something spectacular that makes her feel and look spectacular. I know my customer and how they like to feel and look."
Another interesting point to note is that Toi does all his work during the night - perhaps that's his secret to success?
"There have to be fun, special pieces in every collection. I always try to do that."
And really, that just about sums up Zang Toi's philosophy.